India is a country where people are crazy about sports be it football, cricket, hockey or more. Now, our country is emerging as a leader in e-sports gaming or digital gaming industry. Multiple e-sports start-ups have been witnessed by India in last few years which have already created their footprints globally. Investors have started showing interest in this e-sports section as our country is growing and building leagues for hockey, kabaddi, football and many such sports.
Design Your Own eSports Jerseys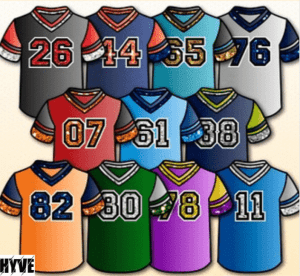 This is more like professional competitive video gaming that held in the competition form. These events are all about testing skills and talent of participants in sports such as League of Legends, Call of Duty, Overwatch, StarCraft II and more. This simply playing sports on a screen is more fun.
Such sports are well known and far more refined and professional. It may demand more skills, time and dedication.  You need to analyse your game, sharpen your strategy and strengthen your team to experience win.
India has is among the top 5 countries famous for mobile gaming and it has more than 200 mobile game development companies. It is estimated that mobile games market of India to be worth $1.1 billion by coming 2 years.
As per few survey reports, mobile gaming and e-sport have become the part of daily life in India and every third Indian loves playing e-games. Both men and women love playing such games.  India is about to become the youngest country in the world that is fully equipped with easily accessible internet facilities by 2020. PUGB is like a phenomenal game that has taken the world by storm and it is more about raising awareness about gaming culture in India.
E-sport also offers various career opportunities including streamer, sponsor, agent, event manager, social media manager, organization manager, referee, sales and marketing specialist, journalist, coach, host and more.
It is very easy to play such games using digital platform. You need to practice and understand the game and join a gaming league. You can participate in such tournaments and make the most of such games.