A legend in every right, NBA's most famous player Kobe Bryant has left the world. Born in Philadelphia, Pennsylvania on 23rd August 1978 to famous former NBA star Joe "Jellybean" Bryant, who played for the Philadelphia 76ers, San Diego Clippers and the Houston Rockets between 1975 and 1983. Born alongside two sisters Sharia and Shaya, who are both older than him. He played guard for the Los Angeles Lakers for 20 years. He was famous for his tough defence, vertical leap, and ability to score winning baskets at the end of the game.
1. How his name came about?
The name "Kobe" is a tad bit unusual. Although it is becoming more popular in the modern era, Bryant actually took his first name from the famous Japanese steak that comes from Wagyu cattle. Apparently, his parents visited the Japanese restaurant just before the birth of Kobe. The famous Japanese beef known for its tenderness, and marbled texture, which is one of the top Japanese beef, like Kobe is one of the top NBA players to have played.
2. His time in Italy
He moved to Rieti, Italy after Sr. Bryant's retirement and spend 8 of his childhood years there. At Rieti he learnt to speak Italian fluently and used to come to the US during summer. During his youth he was interested in both Soccer and Basketball. The show "NBA show time "is what drew his interest and sealed the deal.
3. A celebrity right from High school
He dazzled his peers from school when he brought celebrity R&B singer Brandy Norwood as his high school prom date. To no surprise he was already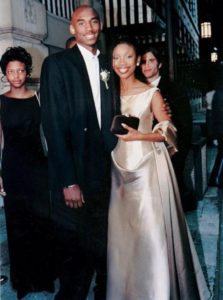 garnering the attention of newspapers and media. His bold move left his schoolmates in awe and wonder.
4. From school to NBA directly
Even though he spend little time studying, he was a brilliant student, scoring a 1080 on his SAT. With this tremendous score he could have gotten into any prestigious college but he made the ultimate decision to move to NBA. Following his decision to enter the 1996 NBA Draft, Bryant was the Charlotte Hornet's #13 pick and was thus traded to the Los Angeles Lakers following a prior agreement. He was one of the youngest players to be directly drafted to the NBA from school.
5. He changed his jersey number multiple times
Through his career, Bryant switched his jersey number twice. He first made the switch from 33 to 8 when he was just drafted into the NBA. He did so because he wore the number in Italy and it also represented the shirt that he wore on ABCD camp. By switching the number when his popularity was going up, he was able to sell more jerseys according to some critics. He changed his number for the  second time in the 2006/07 season from 8 to 24.
6. Debut for the national side
After delay in the debut in the national side, he finally debuts in the summer Olympics of 2008 clinching a gold medal. He played for the US in both 2008 and 2012 Olympics  and won medals both times along side big names such as Kevin Durant, Carmelo Anthony, LeBron James.
7. The nick-name "Black Mamba"
He himself nick named him the "Black mamba" resonating with the snake's speed, agility and accuracy.  He got his inspiration from watching Quentin Tarantino's movie entitled "Kill Bill" where the  'Black Mamba" was used as a code word for a deadly mission.
8. Family life
In 2001, at the age of 23 he married his then girlfriend Vanessa Laine when she was 17. The two originally met in 1999 when Vanessa was in high school. She was present there as background dancer for music videos at the  time and Bryant had arrived at the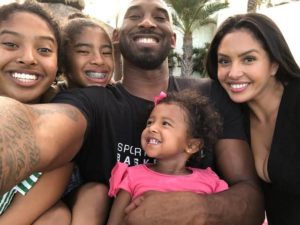 studio to record a rap song. The song was never released but it gave him his future wife. His family had opposed the marriage, they along with his team members were not present during the marriage ceremony. In 2006 he was father to a beautiful first daughter. Although Kobe and Venessa had their rough patches, they were said to be a happy couple.
9. The Philanthropist in him
Kobe Bryant supported the Chinese government with the Kobe Bryant China fund which helped fund education and health programs in China. Bryant was a brand ambassador for After-School All-Stars (ASAS) that provides after school service to children in the US in thirteen states. He was also a brand ambassador for the 2019 FIBA Basketball World Cup.
10. Post Retirement life
After a successful 20-year NBA career, he hung up his shoes at the end of the 2016 NBA season. He scored 60 points in his final game on April 13, 2016. It was the most points scored by a player in a single game during the 2016 NBA season. In the same year, Bryant went to author a book titled The Mamba Mentality: How I Play in 2018. In 2016, Kobe started a venture capital firm with partner Jeff Stilbel dedicated to funding $100 million in tech, games and media.